« Back to News List
Closure of the Exit 31 Off-Ramp from Route 8 Northbound to I-84 Eastbound
July 3rd, 2019
---
The Connecticut Department of Transportation is announcing that construction work associated with the Route 8/I-84 Interchange (Mixmaster) rehabilitation project in Waterbury will close the Exit 31 Off-Ramp from Route 8 Northbound to I-84 Eastbound beginning on July 15, 2019.
The project consists of the rehabilitation of numerous bridges located within the Route 8 and I-84 Interchange and was awarded to Walsh Construction Company at a cost of $152,960,945.27 on April 18, 2018 and is scheduled to be completed September 10, 2022. This project is administered by the Office of Construction – District 4, Thomaston.
CLOSURE INFO
The Exit 31 Off-Ramp from Route 8 Northbound to I-84 Eastbound will be closed beginning July 15, 2019. This closure will remain in effect until the end of October. The closure is necessary to replace portions of the Route 8 Northbound bridge decks.
A U-Turn has been established to accommodate motorists during this closure. Motorists looking to access I-84 Eastbound from Route 8 Northbound will take Exit 35, utilize the U-Turn to proceed Southbound on Route 8 and then take Exit 31. Advanced signage will be posted along both Route 8 Northbound and Southbound and Exit 35.
DETOUR INFORMATION
Detour: Motorists should continue on Route 8 Northbound to Exit 35 and use the Median U-Turn back onto Route 8 Southbound and continue to Exit 31 to access I-84 Eastbound.
** Please note that the start of this closure can change at any time based on weather or resources. **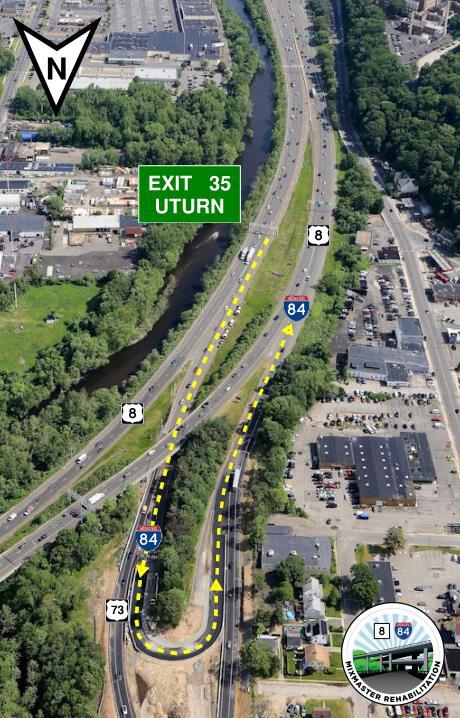 « Back to News List