« Back to News List
Temporary Closure of Freight Street in Waterbury
May 24th, 2019
---
The intersection of Freight Street with Northbound Riverside Street will be temporarily closed beginning at 8:00 p.m. on Friday, June 7, 2019 until 7:00 p.m. on Sunday, June 9, 2019 to allow for the installation of Temporary Bridge No. 3 over Freight Street. Riverside Street will remain open however; access to Freight Street from Riverside Street will not be possible due to the closure. All traffic traveling north on Riverside Street will be required to turn left onto Sunnyside Avenue.
Motorists should be aware that modifications to this schedule may become necessary due to inclement weather delays or other unforeseen conditions. If delays are experienced this closure will occur Friday June 14th through Sunday June 16th at the times noted above.
Detour Information
Detour to Route 8 Northbound: Motorists should follow Riverside Street to Sunnyside Avenue; take Highland Avenue to West Main Street. Entrance ramp to Route 8 Northbound will be on the left.
Detour to Route 8 Southbound: Motorists should follow Meadow Street to West Main Street; take a left onto Riverside Street to Route 8 Southbound entrance ramp.
Detour to Freight Street: Motorists should follow West Main Street to Meadow Street; take a right onto Freight Street.
Note: Riverside North to West Main Street and the on-ramp to Route 8 Northbound is not impacted by Freight Street closure.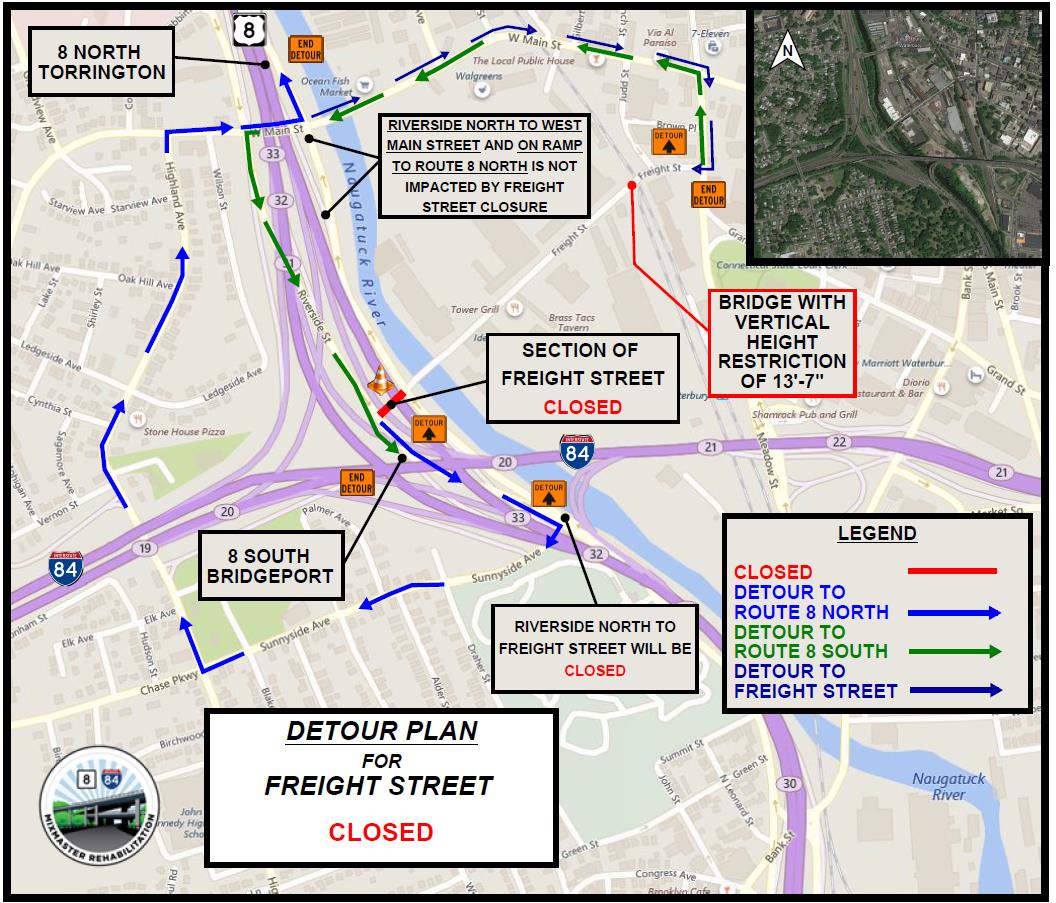 « Back to News List